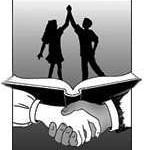 After months of discussion into the substitute teacher pool shortage, steps were taken last night in hopes of garnishing more interest for adding to the pool.
The District 205 Board of Education approved several changes to the substitute pay structure in hopes of securing more interest.
The changes would included a tiered system for paying subs on a daily basis. With subs working in the district less then 11 days making $85 a day, and subs who work 11 days or more making $110.
Originally it had been discussed that the board would require teachers to work consecutive days for the pay bump to kick in, but that was taken off the table.
The board approved the changes unanimously.
Discussion on the school calendar for the 2018-19 academic year was tabled after lengthy discussion and amending to one of the two proposed calendars.
Board member Jean Ann Glasnovich brought forward her own proposed calendar that would see the start of the school year be August 20th, with the second quarter of the school year falling before Christmas Break.
Additionally, Thanksgiving Break would be shortened and Spring Break would be a full week long, and the final five weeks of the school year would be shortened with emergency days being stacked on the final day of each of those weeks.
With contract talks ongoing with the teacher's union, board member Maury Lyon voiced his concern with approving the school calendar before any contract talks were finalized.
Discussion was tabled for a special meeting scheduled on March 21st at 4:30 p.m.
The board did approve the replacement of the district's Chromebooks for a total of $368,367 . Superintendent Dr. John Asplund said he wanted to study how technology was being used in the classroom and if it was being used effectively.
The board had considered approving a summer baseball trip request for the high school team, but due to an error with the agenda it was tabled.