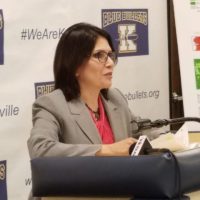 Illinois Lieutenant Governor Evelyn Sanguinetti used Knoxville High School as a backdrop to tout a partially-state-funded program that allows schools like KHS to offer students Advanced Placement courses without having to hire more teachers.
KHS was one of ten school districts selected for a pilot "virtual" AP program, bringing the classes to the schools online. It provides opportunities, Sanguinetti says, the students might not otherwise get.
"A lot of times, we bring up the issue of rural education, and the fact that access and opportunity to certain classes are not available," says Sanguinetti, referring to meetings of the Illinois Rural Affairs Council, of which she is the chairperson. "Sometimes they're available, and the world-class teachers are not there. We kept hearing about that over and over again."
The pilot program is utilizing Illinois Virtual School.
KHS Junior Baylee Johnson says she knows preparing for college would have been problematic, had this program not been available.
"The opportunity to get to take an AP course at a small school like Knoxville is a great opportunity," says Johnson. "It provides more rigor than the Honors courses, and it gives a great opportunity for us. I just see a lot of students taking this opportunity. The tuition being paid for, for this course, has really helped my family and I because we have a hard time paying for stuff like this."
The state is partially paying for the program; and similar to what it does with other AP courses, District 202 is footing the bill for the rest. Superintendent Steve Wilder says the chance comes at the right time, given the relatively new school, and upgrading the district's IT infrastructure.
For its part, the district thought only five or six students would sign up for the virtual AP classes. Eighteen did.
(PHOTO: Lieutenant Governor Evelyn Sanguinetti speaks Thursday at Knoxville High School.)