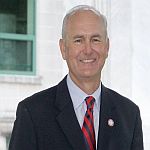 A candidate for Illinois Governor who stopped in Galesburg Thursday says people he's been meeting with door-to-door have been telling him exactly what the state should do with guns in the wake of last week's deadly shootings at a Florida private school.
Bob Daiber says for one thing, Illinois lawmakers need to pass a measure being considered creating a licensure program for gun stores.
"The Gun Dealers Licensure Act needs to be voted on this Spring and put into place to regulate the sales of all firearms," says Daiber, "and to be able to take [guns] off the streets legally by law enforcement that don't belong there."
For another, Daiber tells WGIL the type of gun that was used in the Florida shootings needs to be banned here.
"AR-15's that are being used in the shootings, I think, are being proven to be dangerous weapons in society," says Daiber. "For the safety of residents and for individuals I hear from on the streets that I have talked to throughout this part of the state that have asked me about that, and that's their wish. As Governor, I will grant it. I will begin that process."
Daiber — the only downstate Illinois candidate for Governor in the March primary — says as for what else he's hearing from potential voters, most people are "disenchanted" with the way state government is being operated — citing, for example, the state's bill backlog — and that they're looking for someone responsible who can handle the situation.