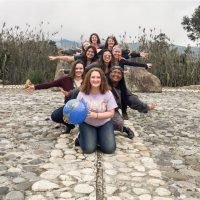 Seven students took the trip of a lifetime over the Christmas vacation and on the way helped change the lives in young children and themselves. 
Monmouth College students and faculty took part in a 10-day trip to the South American country of Ecuador where they worked with children at some of the many farmers' markets in the capital city of Quito.
Students worked with United to Benefit Ecuadorian Children International to provide educational resources to market children with the goal of getting them into school when they're of age.
These children in the markets would accompany their parents from 4 A-M until 6 P-M, where the kids would play and sleep in these booths.
Students interacted with these children at thesmarkets where they – through play – would teach children about hygiene.
Assistant Professor of Educational Studies Michelle Holschuh Simmons tells WGIL that students benefit from seeing how normal things – like a grocery store – function differently in a different country, "A grocery store might look different in a another country, or the restaurants function in a different way in a different country, [or] the bathrooms look different. All of these very normal things that people assume is just the way it is – they discover it's not the way it is, it's the way it is where we happen to live."
Kids also sang songs with the students, used learning toys such as puzzles and Legos, and played soccer.
Assistant Professor of Anthropology Megan Hinrichsen syas that these children learn social skills from these all-day interactions in the markets, "So they do something that I called – in the writing I did as a result of my research – Encountering Work. So not all of them are active child laborers. They're there in the environments. They are socialized there. They interact with their parents. They interact with the community. They interact with other children. So this is the environment in which they are raised."
Henrichsen has been working in Ecuador since 2011.
Chelsea Schupp, a senior at Monmouth, says that her time in Ecuador "was nothing short of a life-changing experience," and said that she was encouraged to go on the trip by students who had taken part the year before.