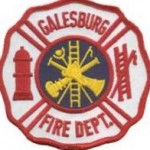 It was a busy night for the Galesburg Fire Department as crews battled a blaze that consumed much of a home on Tompkins street.
Sunday night Galesburg firefighters were called out for a structure fire at a house in the 500 block of W. Tompkins.
According to a news release from Fire Chief Tom Simkins, crews were on the scene at 11:48 where flames were coming out of the east side of the single family home.
Fire had consumed the east facing porch, broken through the windows and into the kitchen and attic. Both occupants and the pets were out of the house when fire crews arrived on the scene.
Simkins reports that there were no injuries and that Captain Bracket was on the scene to begin his investigation.
He adds that the fire likely started on the porch area and spread to the structure, and that the occupants of the home were alerted to the fire by detectors and the house pets.
According to Simkins, Ameran was able to shut off all utilities, and the American Red Cross has been alerted to the incident as well.