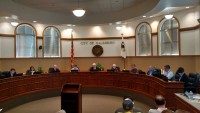 The Galesburg City Council has their property tax levy and budget on final reading Monday night.
Alderman will vote on whether to approve the 2017 property tax levy in which the amount requested from last year will be repeated again.
Whether homeowners pay more property taxes would largely depend on if the value of their property increased.
There will also be an agreement with the Illinois Department of Transportation for construction and engineering on the Farnham Street Overpass.
The agreement would be for an estimated $2.3 million of construction and engineering costs to be covered by the state.
The $675,000 of local money spent will come from 2016 GO Bond funds and Motor Fuel Tax dollars.
Also the Council will consider a 7-year revolving loan for Cornucopia at 3 percent interest.
The loan would be $75,000 would be to make leasehold improvements at their soon to be new location at 176 S. Seminary.
Council documents say Cornucopia will retain five employees.
For what will be the forthcoming eatery at the old Chez Willy's spot, Ryan Cardwell and Bartley Smith are asking for TIF incentives to extensive interior work including upgrading the kitchen.
Also as a part of consent agenda, the packet of routine and uncontroversial items for council to approve, is the resolution to allow the Knox County Board to conduct their meetings in council chambers.
The county board may start meeting in city council for their full board meeting in December.
The board had approved moving their meetings from the courthouse months ago.