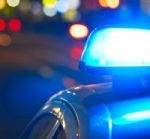 One woman was arrested Wednesday for Criminal Trespassing of a Vehicle, Burglary to a Motor Vehicle, and Possession of Methamphetamine with more possibly pending.
Just before 10:15 p.m., officers responded to the 11-hundred block of Harrison St. for a call related to a burglary from a car. Officers attempted to locate the described subject with no luck.
About 20 minutes later, officers were called back out to the residence on Harrison St. when the owners of the vehicle located the subject laying on the grass in the yard.
According to police reports, 24-year-old Kayla B. Debates allegedly admitted to officers she had been in the vehicle, and to taking a roll of toilet paper from the car.
She was arrested and searched – to which officers allegedly discovered drug paraphernalia that contained meth residue.
Additionally, officers discovered possible stolen merchandise in her possession and were investigating that.
This is Debates' second arrest in the month of November. On the 15th she was charged with forgery after officers observed a drug deal taking place on McKnight street.
According to the 9th District's Website, she was due in court today on the Forgery charge.