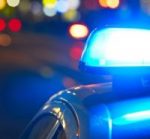 Two men have been arrested for disorderly conduct following a dispute that occurred around midnight on Thursday in Galesburg. 
Officers stopped at a residence at the 300 block of S. Chamber at around 11:58 p.m. when they heard arguing as they were driving by.
According to reports, Galesburg Police approached several individuals on the steps of the residence and attempted to defuse the situation.
One of the individuals, later identified as 32-year-old Faron M Neville, allegedly became combative with officers and was ordered to stand down.
An officer attempted to arrest him when he began resisting. That officer pulled out his taser and – after warning Neville – used it on him to restrain him.
Once police were able to make contact with the resident of the home, she informed officers that her ex-husband – 49-year-old Gilberg D. Bicknell – was allegedly part of the group that was on her front steps.
She told officers that the group woken her, and her boyfriend up and were attempting to fight the boyfriend.
She told officers she had been attempting to get an order of protection from him, and asked officers to arrest Bicknell as well.
Officers attempted to restrain Bicknell, but he allegedly began resisting. Once he was restrained, he was searched – to which a baggie of methamphetamine was discovered in a pack of cigarettes.
In addition to the disorderly conduct charge, both men received resisting arrest charges. Bicknell received a meth possession charge as well.