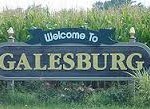 Tonight the city council could enact new rates for city fees including two entirely new fees.
Council could enact a fee on getting a license for a towing business and a fee for a gaming terminal license.
Aldermen Angela Bastian and Jeremy Karlin said when these adjustments were on first reading that they thought it thrust more burden on businesses that already have many fees to contend with.
Mayor John Pritchard assured them that many municipalities have these fees, many of them at a steeper price than Galesburg's proposed $250 per machine every year.
Also the city could approve applying for a grant that would reconstruct Simmons Street from Prairie to Seminary.
Grant awards will be announced next fall but if accepted Galesburg would get 80 percent reimbursement on construction and engineering costs for the $1,200,000 project.
The city would only be on the hook for $240,000.
Council will also have the property tax levy for the next fiscal year on first reading.
Administration has recommended leaving the levy rate where it was last year, relying on a rise in Equalized Assessed Value of properties to provide new income.
Whether a tax payer pays more next year will essentially rely if their property value rose or fell.
Council may also approve five separate quotes from Business Systems Connection for equipment to complete the Park Plaza renovation next year.
The supplies are in order to give the plaza video and wi-fi access and the bid total is about $6,500.