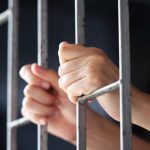 CHICAGO (AP) — Two Chicago men who were serving life sentences for a 1994 rape and murder have been released from prison based on DNA evidence exonerating them.
Nevest Coleman on Monday walked out of Hill Correctional Center in Galesburg with his defense counsel. His family members, including a daughter who was 2-years-old when he was incarcerated, cheered as he approached. Darryl Fulton was released from a different prison into the arms of his family.
Judge Dennis Porter, noting DNA evidence implicating another man, vacated the convictions of Coleman and Fulton on Friday.
Coleman and Fulton were convicted in 1997 in the rape and murder of Antwinica Bridgeman. The woman celebrated her 20th birthday at a gathering of friends, including Coleman. She disappeared that night and was discovered weeks later in Coleman's basement.