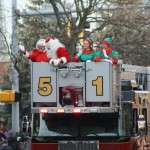 If there's any doubt that the Christmas season is quickly approaching, look no further than Downtown Galesburg this Sunday.
The Galesburg Christmas Parade will becoming down the street at 2 p.m., this year with a new theme "Peace on Earth, Good Will Toward Men."
This parade typically has attendance that can reach the thousands depending on weather.
Sunday has a forecast that looks cool but bright, with sunny skies expected at a high of 37 degrees.
Just like in past years, its anticipated that Santa Claus will land on First Mid-Illinois Bank and emergency personnel are on tap to make sure he can safely get down to ride in the parade.
His arrival is expected at about 1:30 p.m.
The parade is organized by the Galesburg Business Association.