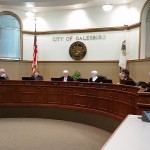 Galesburg City Council held some discussion last night regarding proposed fees for gaming terminal licensees.
Mayor John Pritchard says these fees are fairly common in towns across the state, many having fees much steeper than what Galesburg is proposing.
He adds that last year $6 million was netted in local and state taxes from Galesburg gaming machines.
Director of Planning and Public Works Wayne Carl says the fee would be $250 per terminal, or gaming machine and would be assessed every year.
Ward 1 Alderwoman Angela Bastian had some trepidation for the fee, saying that establishments that have the machines already have a litany of taxes and fees to pay including food and beverage tax and liquor license fees.
Ward 7 Alderman Jeremy Karlin also indicated he was not in favor even though the machine's owner and the business would split the cost.
The item was also only on first reading so will not be put for a vote until likely later in November.
Approved last night was a resolution saying that they do not intend to raise the property tax levy by more than 5 percent.
The current proposed budget for fiscal year 2018 is also currently available for public viewing with hard copies available at the City Clerk's office and the Galesburg Public Library.
Also council voted unanimously to approve demolition to properties at 1027 Lyman Street and 708 Pennsylvania Avenue.
Alderman questioned spending so much on demolition instead of rehabilitation efforts but Pritchard says a part of the issue is housing for 40,000 in a town with a 30,000 person population.
Council also approved their end of an intergovernmental agreement between the city and Knox County.
Carl says that for the last decade the agreement and rate increases have been approved year to year but this latest extension will be in effect for five years.