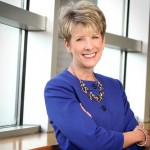 Carl Sandburg College president Lori Sundberg confirms she is a finalist for a job at a larger community college in another state — and it's a job that she may or may not actually want.
Sundberg posted a statement Sunday on Facebook saying she'd be in Cedar Rapids, Iowa Monday and Tuesday for final interviews at Kirkwood Community College.
But Sundberg says she wasn't looking for another job; she was contacted by firm conducting the search and encouraged to apply. So, Sundberg says, she did, and now she's one of four finalists.
She says she's taking the decision very seriously, and with mixed emotions. Kirkwood Community College is said to have an enrollment of 20,000 credit students, and 70,000 non-credit students — and Sundberg calls is one of the top community colleges in the country.
Sundberg was unavailable for an interview Monday, but she may join us later this week on Galesburg's Morning News or Galesburg's Evening News.
---
HERE IS THE FULL TEXT OF LORI SUNDBERG'S STATEMENT:
"I am a finalist for the position of president at Kirkwood Community College in Cedar Rapids, Iowa, and will take part in the interview process there Nov. 6-7. I want to make clear that I did not initially seek out this position nor have I been actively looking for employment outside of Carl Sandburg College. I was contacted by the consultant who is leading the search for Kirkwood and encouraged to consider the position. I'm extremely flattered and honored to be a finalist for this position. Kirkwood is, without question, one of the top community colleges in the country. While Kirkwood Community College and Carl Sandburg College share many similarities in terms of district geographical size and makeup, they are also very different — most specifically in enrollment size. Kirkwood has an annual enrollment of nearly 20,000 credit students and about 70,000 noncredit enrollments. The search process is structured in such a way as it had several semifinalists and now just four finalists. This is a good process that allows both the Kirkwood community and the finalists to determine who is the best fit to lead the college into the next phase of its life cycle.
"For me, I remain incredibly dedicated and committed to the community and to Carl Sandburg College. I am from this community, and there are not enough words for me to express the gratitude I have for the Board of Trustees, the employees and students. It has been a complete honor to be the president of such a wonderful college. While not one of the top community colleges in the country in size, Sandburg is undeniably one of the top community colleges in terms of our faculty and staff and their commitment to our students. While I am exploring this opportunity with Kirkwood, it is with very mixed emotions. I am taking this decision very seriously for me and my family, for Carl Sandburg College and for Kirkwood Community College." (Source:  Carl Sandburg College)