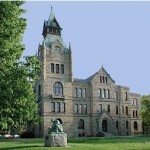 Charges against Abingdon-Avon school district's Director of Technology Mark Rodgers were dropped Monday at a hearing in Knox County Court.
Prosecutors had asked for continuance of the case that had been filed over 14 months ago.
Rogers had been charged with three counts felony eavesdropping, related to alleged abuse of his authority in the school district.
He was for a time placed on administrative leave but was reinstated in the position in July.
School Board President Anthony Brooks said at that time said Rogers was "innocent until proven guilty" and they felt they had to "make a move."
A key state's attorney witness was unable to make yesterday's hearing and Assistant State's Attorney Brian Kerr said the prosecution was unable to continue.
Judge Paul Mangieri denied a continuance and threw out the case.
This is not the same as an acquittal and does mean that charges could be refiled against Rogers in the next three months.
While its not an acquittal, it means the case against Rogers has been dismissed at this time.