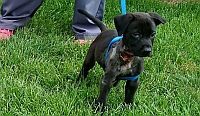 A case of animal cruelty that has received a lot of regional media coverage is officially being transferred to adult court.
Sources and court records indicate a Henry County judge Thursday approved moving the case of a teen now publicly and legally identified as 17-year-old Damien Ingram moved to adult court.
Ingram was arrested a day after a then-two-month-old Pitbull-Labrador Retriever mix named "Thor" was found outside an apartment complex in Kewanee July 25th with a number of knife-like slashes across his neck and body area.
Thor — now said to be doing well — remains in the custody of the Kewanee chapter of the Henry County Humane Society, and continues to receive heavy social and broadcast media attention.
Ingram is scheduled to be back in Henry County Circuit Court Monday on multiple counts of Animal Torture and Aggravated Animal Cruelty.
(File Photo from Henry County Humane Society-Kewanee)