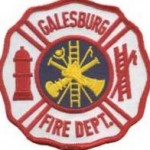 Sunday is typically a day of rest but that was not the case for Galesburg firefighters yesterday.
From the hours of 7:15 a.m. to 8:19 p.m. Sunday evening, Galesburg Fire responded to three separate incidents.
No injuries were reported and damage to all the properties was considered minimal by Fire Chief Tom Simkins.
He says the first call came in Sunday morning to the 500 block of East Losey where a dehumidifier in the basement caught fire and extended to the surrounding wall and ceiling.
The residents were home at the time and were alerted by the smell and subsequent smoke alarm.
Crews were able to quickly knock down the fire in the basement but were on scene for about another hour ridding the house of smoke.
Later Sunday, at 7:02 p.m. on the 1100 block of Clark St., Simkins believes the oven had been put on the cleaning cycle while cooking items were still inside.
Only eight firefighters were prioritized for this call and light smoke was the extent of the damage.
About an hour later there was a call for a fully engulfed vehicle on the 1200 block of Moshier Avenue.
The fire extended to the house by the time GFD arrived.
An all-clear was given just about a half hour after crews extinguished flames with a hose and used a smoke ejector.