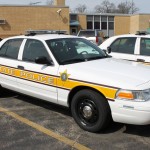 The Illinois State Police say troopers arrested an armed man after an incident at one of the rest stops near Woodhull on Interstate 74.
Officials say state troopers and Henry County Sheriffs Deputies were called to the westbound Krisdala Baka rest area around 9:45pm Wednesday after eyewitnesses claim a man was seen shooting into the ground and then got into a semi.
Troopers were able to find the semi in question and pull it over on Interstate 80 near Rapid City later Wednesday night.
The driver – 22-year-old Khalid Hunter of Savannah, Georgia – faces felony charges of Aggravated Unlawful Use of a Weapon, Unlawful Use of a Weapon, and Unlawful Possession of Ammunition without a valid I.D. Card.
Hunter is being held in the Henry County Jail on $25,000 bond. A passenger in the semi was not charged.