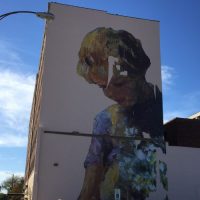 The mural on the side of The Kensington had barely been hung before some blemishes showed up.Galesburg Civic Art Center Director Tuesday Cetin says rains and winds the last week or so ripped portions of the art made of paper and applied with adhesive.
"She just did not have adequate time to actually dry from her installation and so we're working with the artist to get reprint of the sections that are damaged and as soon as those are sent we'll set about to repair her," Cetin says.
Julien De Casabianca, the mural's artist will reprint the sections this week and ship them Galesburg internationally.
Cetin says they hoped they wouldn't run into this problem but artists are always ready to adapt.
They'll look for a stretch of dry weather before retrying the mural's hanging.
She says the "daisy girl" should stay up this time as long as there's a week or two of relatively dry weather conditions.