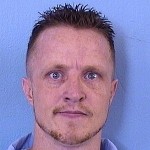 The newspaper in the hometown of convicted spree killer's Nicholas Sheley has received the man's apology for murdering an Arkansas couple in Missouri.
Sauk Valley Media – owners of the Sterling Daily Gazette – says it received the 14 page handwritten statement in the main Monday, weeks after Sheley read it in a Missouri Courtroom. It was photocopied, but was verified to be the statement Sheley read in court before being sentenced the the last two of a series of life prison terms for all the murders, including that of 65-year-old Ronald Randall of Galesburg.
Sheley says in the statement he was "surprised" that prosecutors in Missouri offered the possibility of life without parole instead of the death penalty. Knox County State's Attorney John Pepmeyer told WGIL a few weeks ago he was, too.
"We'd been in touch with [the Missouri prosecutors] almost since the date that I signed the documents transferring him to Missouri," says Pepmeyer. "It was the first time that myself or any of my colleagues, to my knowledge, had heard about [the withdrawal of the Death Penalty]. Certainly, the victim's family locally hadn't heard of it.
Sheley says in the written statement each of the eight deaths he was convicted of were, "split-second decisions." You can read the full letter by CLICKING HERE.