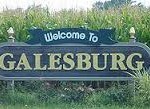 The Galesburg City Council will vote tonight on a change in city code that would allow Prairie Players Theatre and some other venues to serve alcohol outdoors.
Specifically organizations that hold a Class H liquor license would be allowed to serve adult beverages outside their buildings.
A request from Prairie Players, who also have recently in gone in the business of renting out for events like weddings and parties, is what brought upon this proposed change.
Alderman will also vote on whether to name the East Main Street Underpass after the late Rev. Jon Sibley Sr.
Council documents say that Sibley left a "significant and lasting impact" on the community through service and volunteer efforts.
If a majority of alderman approve renaming the grade separation "The Rev. Jon A. Sibley Sr. Underpass" then they would send a formal request for the Illinois General Assembly to pass the resolution at the state level.
The Council's could also turn tonight to approve their side of the annual facilities agreement between the city and District 205.
The agreement would let the city use district schools, facilities and fields for things like junior Streaks sports.
In most cases normal rental fees that 205 would charge will be waived according to school board documents.
The district gets access to city owned facilities like Lake Storey Park, Bunker Links golf course for athletics and some facilities for Galesburg Area Vocational Center use.
The vocational center will get to use Galesburg Police Shooting Range and the Galesburg Fire Department Training Site.
Galesburg Alderman tonight also will try to approve a bid, once again, that was tabled from a previous meeting.
Bond Construction submitted the lowest bid at approximately $99,000 to rehab the west restroom/shower room at Alison Campground.
Administration says the structure is in bad shape, the plumbing is original to the building and the structure is not compliant with the American with Disabilities Act.