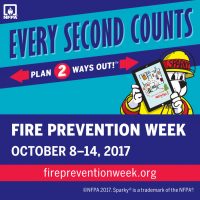 Implemented by President Coolidge in 1925, after the Great Chicago Fire, the week which October 9th falls is annually Fire Prevention Week.  Galesburg Fire Marshal Randy Hovind tells WGIL this year's theme is "Every Second Counts: Plan 2 Ways Out".
Hovind says each year the National Fire Protection Association changes up their theme to cover different topics.
Kids that learn about fire prevention tend to remember what they were taught the year before, so focusing on different topics really helps.  Topics range from "stay low and go", don't back into the house or building to retrieve anything, and smoke detectors.
"We always suggest you check your smoke detectors twice a year," Hovind says. "So anytime you change your clocks forward or back….and you should check your batteries as well. It it's the 10-year battery you don't have to check, but if it's any other type of battery you should check to see if they're working properly."
Hovind also recommends a fire extinguisher mounted in your home – preferably in the kitchen – where most house fires occur. If you are not comfortable using an extinguisher, in the event of a fire, get out and call 911.
In addition to kitchen fires – and keeping a close eye on your cooking, it's important to make sure your home is up to code if electrical work has been done.
Another common fire hazard are clothes dryers that haven't been cleaned properly – or run continuously for long periods of time.
During the fall especially, burning leaves and yard waste is not allowed within the city limits – and could result in a $75 fine.
Fire pits however, are allowed anytime as long as no yard waste is being burned.
This fall, anyone who is planning on hosting a "wiener-roast" can apply for a permit from the City for a four-hour time frame.
With this season's very dry conditions, any fires near a corn field need to be monitored very closely.
For questions, or to acquire free smoke detectors, you can call the Galesburg Fire Department office at 345-3757.