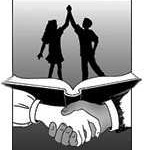 Tonight the Board of Education for District 205 will hold their October meeting where several items will be considered for approval.
The board will consider the approval of an intergovernmental agreement between the district and the City of Galesburg.
This would allow public access and use of some of the district's facilities – such as the tennis courts or the fieldhouse, and in return give the district access to some of the city maintained properties – such as Bunker Links.
The school board will also consider the approval of a District English Learners Community Liaison position.
This job's primary goal would be to foster a relationship between families and the school district – providing clear and effective communication.
On top of the list of action items the school board will discuss several items – some discussion may seem familiar.
The board will also discuss an affiliation agreement with Carl Sandburg College regarding offering a joint educational experience for students interested in the field of healthcare.
The joint agreement would allow GHS students to take part in an internship or clinical experience in several programs including Practical Nursing, Radiologic Technology, and Paramedic/EMT.
The board will continue discussion of video taping board meetings – having done so at previous meetings before.
Previously the board had discussed several different methods of live streaming board meetings online – but questioned privacy for students who attended meetings.