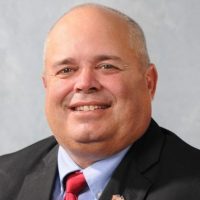 Last weekend, State Representative Dan Swanson of the 74th District announced his intention to run for re-election. 
Swanson served as a lieutenant colonel in the Illinois Army National Guard for decades, as well as serving on the Alwood school board, and eventually Henry County Board before being elected to take over the seat held by Don Moffitt.
He told WGIL that his priorities were always on his constituents needs, and that his military experience helped him learn to compromise and negotiate with military leadership helped prepare him for his work in Springfield, "My goal was always.. it was not about me it was what my constituents wanted me to carry – for them – to Springfield. I think I've done that the best I can. It's a different environment… The military experience of being able to compromise and negotiate… it carried over quite well."
The biggest focus on his first year in office has been on the first state budget in years, and education funding – where he said he kept in contact with all 20 superintendents in the 74th district. He called the education funding bill a "true compromise bill."
The freshmen legislator was also appointed to several committees: Agriculture and Conservation, Education, Veterans' Affairs, Appropriations-Public Safety, Fire and Emergency Services, and Police and First Responders.
Recently, he was appointed to the Military Prior Learning Assessment Task Force by House Republican Leader Jim Durkin, "we look at the experiences of a non commissioned officer or officer – what education they've gone through. What their military skills are and how they can relate to civilian skills… We've added firefighters within our engineering battalion. And that's something we haven't had an opportunity to look at"
The task force is also charged with ensuring the quality standards are calibrated for military learning and experiences toward earning academic credit is essential for easing the transition for student veterans.
Swanson added that he earned college credit hours through Black Hawk College, and Western Illinois University because of his military service.