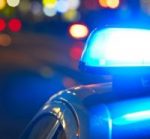 Galesburg police have arrested two men after discovering items allegedly used in the manufacturing of methamphetamine.

Officers were called out to the 400 block of N. Broad Street Thursday around 4:30 PM where police reports indicate that officers detected the smell of chemicals.
A search of the premise was conducted – to which a backpack with meth making materials was allegedly found – including a bottle of fuel.
31-year-old Jeffery Blair Jr, and 45-year-old Michael Calhoun were taken into custody – both men face charges of possession of meth manufacturing materials.
In addition, Calhoun had one outstanding warrant – while Blair had several outstanding warrants for Knox, Rock Island, and Tazewell counties in Illinois and Scott County, Iowa.
The two are jailed pending future court appearances.