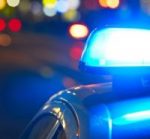 A Galesburg man was arrested early Saturday morning for manufacturing or delivering cocaine.
Galesburg police observed 31-year old Aaron Christopher Cochran driving in downtown Galesburg before turning into an alley up to the parking lot behind Monkey Business bar.
The officer suspected Cochran was driving on a suspended license which headquarters confirmed.
Cochran was placed under arrest and while being searched was found to have a baggie on him containing eight individually wrapped "white chunks".
These chunks later tested positive as cocaine, which amounted to three grams.
Cochran was taken to the Knox County Jail where he is to have an initial appearance with a judge on counts of manufacturing/delivering a controlled substance and lesser charges including illegal transportation of alcohol.
Also in an unrelated case around 10:30 p.m. Friday night a worker at Casey's General Store on West Main found a bag of packaged cocaine in the women's restroom.
Police marked the cocaine for destruction.