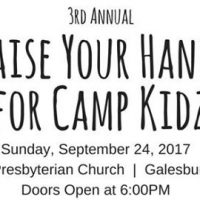 The 3rd Annual Raise Your Hands for Camp Kidz gospel benefit concert is tonight at First Presbyterian Church in Galesburg. The concert raises money for the summer camp program Camp Kidz which is for children with disabilities in Knox and Warren Counties. Lyndell Messmore, the Director of Rehabilitation Services for KCCDD tells WGIL that there will be four local acts taking the stage for the show.
"We have four local bands that will be sharing their talents and their music with us." says Messmore. "We have First Presbyterian Church of Galesburg, Ada and the Shubies, Maple City Baptist Church of Monmouth, and Covenant Church of Galesburg."
The show will start at 6 P-M with doors opening at 5. There is no cost to attend, but a free will donation will be accepted. Camp Kidz is a collaberative effort of KCCDD, Bridgeway and the Warren Achievement Center.