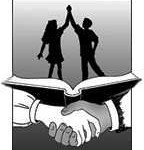 The District 205 Board of Education meeting held Monday night covered a variety of topics and items for approval.
Under action items, the board heard from High School Principal Jeff Houston where he presented the tentative 2018 fiscal year budget for the Galesburg Area Vocational Center, "We're still offering the same programming we've offered to kids in the past. Good news is that the CTI grant that I said was suspended last time – with that going forward and the acceptance of the state budget they did release the Perkins money. Which is matched to the CTI grant money. So now both of those grants are available to us. That's where we can keep the relevance in our programming to where we buy a lot of our large ticket items."
Those large ticket items include purchases of stoves for culinary classes, and equipment for students at the fire science learning site.
Houston reported revenue for the year was just over $550,000 which matched the year's expenditures which was "business as planned."
Jennifer Hamm, Assistant Superintendent for finances and operations then presented to the board the fiscal year budget for District 205.
Hamm reported as of July 1st 2017, the beginning fund balance sat at just over $20,700,000 with a end-of-the-year projection of just over $21,015,000.
With a reduction of federal title I and II grants to the tune of $400,000, the district made appropriations accordingly.
The reductions the district has made stopped the deficit spending trend the board has seen.
The board approved the adoption of both budgets.
The board also approved the Personnel Report as well as the Risk Management Plan for 2018.
Dr. John Asplund, in regards to risk management, says is something that needs looked at every year, "Try to make sure that it closely reflects what we're actually doing for risk management. So it's talking about salaries that we pay out of that, insurance we pay out of that attorneys that we pay out of that. Just making sure that as best as we can actively reflecting what the risk management plan is of the district"
Discussion items from last night to be voted on at next month's meeting include: Cash vs. Accrual accounting, the Secretarial Handbook, E-L Community Liaison Job Description, Late Start Schedules, and Registration Fees.
In regards to Late Start Schedules, by law schools are required to provide a 2-hour break between meals. A 2-hour late start wouldn't provide enough time between breakfast and lunch.
Asplund and Jeff Houston suggested making late start days "School Improvement" days to keep the amount of school schedules low.
The board had video taping equipment set up for a trial run to stream board meetings. Streaming of meetings isn't expected to begin until the first of the year, and is expected to cost nothing.