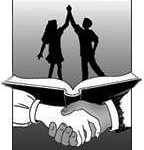 Tonight's regular monthly meeting of the District 205 Board of Education will see continued discussion on the item of online streaming or videotaping such meetings.
This item was brought up last month and discussed at length following a presentation from District Technology Curriculum and Professional Development Coordinator Matt Jacobson.
Board members tabled the discussion to give Jacobson more time to put together more data, information, and to look into policies and safeguards to protect children that would be making appearances on camera. 
The board will also be discussing an intergovernmental agreement between the district and the City of Galesburg, as well as changes being made to the secretarial handbook.