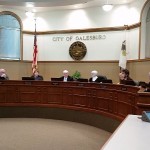 The Galesburg city council an agreement to provide $775,000 to a local developer for him to develop six acres of commercial property north of Aldi grocery store.
Mike Martin of MLKKM Properties Inc. will have 13 years to pay back the funds at 2 percent interest.
He will use the funds to make infrastructure improvements like extending Midwest Drive and adding a water retention pond.
City Manager Todd Thompson says that this is a good investment for the city.
"We've kind of done the math on the full development of this and we've been conservative. The properties in total, in the first and second phase should produce sufficient revenue to cover all the costs," Thompson says.
Martin said last night he's that ReMax Real Estate has been reaching out to potential buyers.
Thompson says the city can only require that a developer build with in the limits of the city code but said that its possible the code could be revisited before development begins.
Mayor John Pritchard thanked Martin for his interest and noted that its not usual that they deal with local developers in these types of endeavors.
Martin is a longtime Galesburg resident.
Pritchard jokingly made a request for a Culver's to be put in one of the lots.