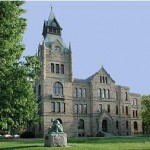 Comments and concerns from the union representing the staff at the Knox County Nursing home spoke at the start of last night's board meeting.Randy Lynch, a representative with the American Federation of State, County and Municipal Employees, spoke to the Knox County Board last night regarding some concerning issues at the county Nursing Home.
Lynch indicated that the atmosphere at the nursing home was rather hostile – and the understaffing issues were causing nurses to burnout rather quickly.
"The nursing staff, LPN's, CNA's are severely understaffed. We have nurses and CNA's that are working 6-12 hour shifts on a regular basis. One nurse is scheduled to work 13 double shifts in the month of December alone," Lynch says.
Lynch said that many of the concerns have been addressed by administration, but no action has been implemented. 
Board President Pamela Davidson addressed the concerns of the nursing staff saying "we hear you, we hear what you say, and never think as board members that we don't hear you."