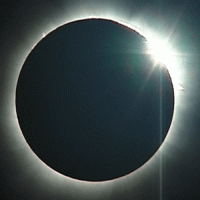 If you're planning on heading to southern Illinois today to see the solar eclipse – you're probably too late to stay the night too. 
The best views of today's total solar eclipse will be around the Carbondale, Illinois area. 
With Southern Illinois students returning to campus over the weekend and today – and tourists hoping to spot a good view of the eclipse, there's quite a logjam or sorts occurring.
Cody Johnson, an Abingdon native and SIU senior, tells WGIL the population boom in the southern part of the state are, in a word: "crazy."
"If you were to try to look for a hotel, anywhere near the area, anywhere in an hour even two hour radius, they're all booked out," Johnson says. "The school's actually set up that you can spend the night at one of the dorm rooms in the towers. I think on top of that you have to book multiple nights as kind of a minimum."
Individuals even have the opportunity to rent a space on the rec gym floor to sleep. 
Johnson says that, this time of year, the University posts numerous signs directing traffic to the appropriate dorms or areas.
With the spectacle that is the eclipse today, twice the amount of signs have been posted.
And besides cautionary notices sent to students in regards to eclipse-viewing safety, SIU and other organizers have been on the constant search for volunteers to assist with traffic for the sudden population increase.