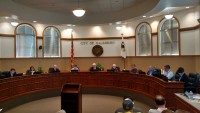 Galesburg City Council has a number of road construction contracts to approve tonight.
Among them would be contract that would mean Carl Sandburg Drive and Broad Street is getting a traffic light.
According to council documents a traffic study showed that a signal was warranted at this intersection.
They also say that they believe this will relieve congestion from side streets along corridor by providing larger gaps in the traffic stream.
Aldermen could also give the ok for a $934,000 reconstruction of the section of Whitesboro Street that runs from Main to North.
City Council will also look to pay about $50,000 for a company to inspect and log the work being done to the corner of Broad and Carl Sandburg and $90,000 for similar services on the Whitesboro proejct.
This is necessary due to all the city inspectors being tied up with the multitude of other road projects going on in town currently.