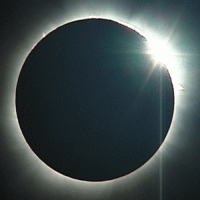 Typically the first several days of the school year are scheduled for early dismissal, and this year is no different. However, it's not every year is there an opportunity for kids to watch and learn about a total eclipse.
It's because of that chance, that the District 205 administration reached out to the teachers union to push back the final early dismissal day to the 24th, to make the 21st the first full day of classes. 
Dr. John Asplund tells WGIL that the union was very supportive of the teaching opportunity and Lombard Principal Nick Sutton had even gone as far as to make sure students and faculty would be able to safely watch the event.
"Once again Nick Sutton did a great job with finding out a way to find some viewing glasses for every student and employee for a very low cost. The district will be supplying those for everybody so they don't burn their corneas and retinas in the process so to assure a safe viewing," Asplund says.
Asplund said the administration was very excited about the opportunity.
School starts on Tuesday August 15th.