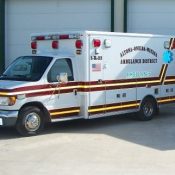 An upcoming fundraiser will bring out guns, food, and competition all the while raising money for the Altona, Oneida, Wataga Ambulance Service.
Even though the organization is funded by county taxes, the funds raised will be going to new medical equipment for the emergency rigs.
Pat Hennenfent with the ambulance service tells WGIL that one piece of new equipment they're looking to buy is an advanced heart moniter that will help transmit important heart information to hospitals.
Hennenfent also told WGIL that the multi-community ambulance service answers about 140 to 150 calls a year.
Food is being provided by Henn House Barbecue. Cost is $20 per person and $5 for practice rounds between noon and 1 P-M.
The trap shoot fundraiser is beings at Noon on August 13th north of Galesburg on Moshier Hill Road.