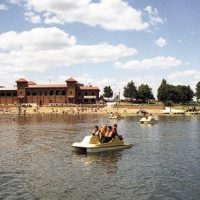 All operations at Lake Storey Beach have returned to city control.
City Manager Todd Thompson says that Dan Reynolds who had been given a five-year contract to operate concessions, boat rentals and the waterslide has terminated the agreement.
But the beach will be open for the rest of the summer with only a few changes.
Parks and Rec Director Tony Oligney-Estill says the city will staff the concession stand during regular hours.
Oligney-Estill says the beach will be open 11-6 every day of the week until Labor Day.
"And we'll be open through Labor Day as we always have been," Oligney-Estill says. "I guess the other change is there is no pontoon boat tours as our pontoon boat is not functioning," Rogers says.
Oligney-Estill had recommended that the beach become swim-at-your own risk last year citing the infrequency that city lifeguards work the beach.
In other city recreation reminders, Lakeside will open through Labor Day as well but will only be open on weekends after schools starts.
Oligney-Estill says in mid-August about half of the lifeguards go back to college and they simply don't have the staff to be open everyday.