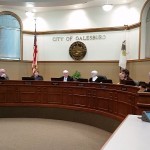 Galesburg Council voted last night to approve a $6,340 bid to renovate four golf tees at Bunker Links Golf Course.
City Manager Todd Thompson says this is something they do from time to time.
Council took administration's recommendation to give Larry Denton Golf Course Construction the contract after Thompson said Denton has worked with the city before.
Somewhat unusually city administration recommended council vote no on bids for parking lot signage.
"This is something that we feel needs to be done to make the parking lots consistent however we think the price is probably higher than it needs to be so we'd like to go back and work on alternative proposals," Thompson says.
Council also approved a ordinance change recommended by the Planning and Zoning Commission.
Now the commission will be able to consider variances for signs that sit off of a business' premises.