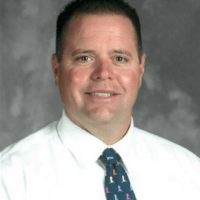 Former Galesburg Football Coach and Macomb and Dunlap District Principal begins a new chapter as Superintendent of Farmington District 265. 
Dr. Zac Chatterton has been brought in to replace Dr. John Asplund, who is now the new Superintendent of District 205.
After District 265's first Board of Education meeting, Chatterton tells WGIL that thus far, the transition has been rather smooth.
"It was great. We got through the budget, the other factors and most importantly we got our new director of student services hired, Toby Ballas and he'll be working throughout all the buildings. The new high school principal is Chris Mason, most recently I worked with her she was the assistant principal at Dunlap High School," Chatterton says. "I was appreciative of the support of the board in getting those positions filled."
In Chatteron's first few days as Farmington's new Superintendent several neighboring district superintendents, school administrators, and officials reached out and offered any additional help they could.
Among those who have reached out includes the former Farmington Superintendent Dr. Asplund.
The next scheduled District 265 Board of Education meeting is scheduled for August 8th at 7:30pm.