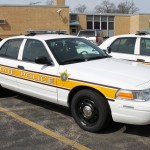 One person is dead in a single vehicle accident that occurred Friday afternoon in rural Fulton County.
Preliminary police reports indicate that 70-year old Daniel Athearn was traveling northbound on Lone Elm Road when his vehicle left the road for unknown reasons.
Illinois State Police say that Athearn then overcorrected toward the roadway before his Blue Chevy Blazer eventually overturned into a ravine.
He was pronounced dead on the scene and police saying the official time of the crash is unknown but officers were called out at 2:16 in the afternoon.
According to the news alert, Athearn was not wearing a seat belt.