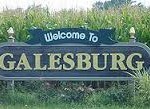 Work is underway replacing lead service lines in Galesburg, starting with lines on South Chambers, East Berrien, and East Brooks.
409 lines are being replaced as part of the first portion of the forgivable $4 Million Illinois Environmental Projection Agency's Public Water Supply Loan Program.
6 lead service lines were replaced yesterday with the projection of replacing between 6 and 10 every day and having the other 403 done by the end of October,
Wayne Carl, Director of Public Works, says that the city is trying to pick homes based in low-to-moderate income areas, as well as those that lead test show results above the 15-parts-per-billion action level.
Carl says there is an online database for citizens to find out what type of lines they have leading onto their property.
They'll even conduct a free water test if there is lead service lines to find out the lead levels are.
He says that citizens have nothing they need to do to initiate the work. The city will send them paperwork that they'll need to fill out and send back before work can get started.