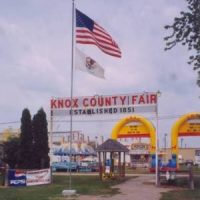 While the Knox County Fair technically kicked off yesterday with the Harness racing, the bulk of the festivities will start up on Tuesday, July 11th.
Events include the Illiana Tractor and Truck Pulls, Stock Car Races, various animal shows, Demo Derby, and new to the fair: Overlanders Mud Drags.
Fair Board President Tom Collopy was especially excited over the mud drags, and he gave a preview of the fun to WGIL.
"I didn't know you could take an old four-wheel drive and turn it into an alcohol fueled mud truck. They use jet-fuel and alcohol and they're side by side mud drags so it should be great to watch," Collopy says.
Entertainment includes gospel singers, Joyful Noise, during the day. 
Tickets at the gate are $3, and Miller Spectacular Show is bringing a wide selection of games and prizes to the event.