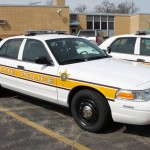 Three were injured as a result of a Monday afternoon crash on U.S. Route 136 in McDonough County.
33-year old Lana Descamps of Moline was the passenger in Chevy Suburban pulling a cargo trailer when driver Joseph Decamps entered the crossway and failed to yield to east bound semi-truck.
Descamps' vehicle overturned after a collision and came to a rest in a ditch on the driver's side.
The other vehicle, a 2015 International Truck Tractor was being driven by David Reikeberg of Colchester who refused treatment at the scene.
Both units did sustain serious damage and were towed from the scene.
Illinois State Police report that Lana Descamps was air lifted to Blessing Hospital in Quincy.
A 10-year old boy was airlifted to Peoria and a 12-year old girl was transported by ambulance to McDonough District Hospital.