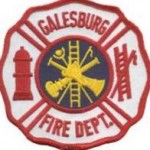 With Fourth of July celebrations coming up on Tuesday, this weekend will surely be filled with fireworks and celebrations for Independence Day.
The Galesburg Fire Department sent out a statement this week reminding everyone to celebrate safely as fireworks pose an unpredictable danger that can cause severe burns, scars, lifetime disfigurement and even death. In recent years, fireworks have been one of the leading causes of injuries serious enough to require hospital emergency room treatment.
According to the National Fire Protection Association, amateur fireworks use endangers not only users, but bystanders and surrounding property and structures.
Having adult supervision doesn't eliminate risk of injury though, in a statement from Captain Derek Perry, he says "An injury from Fireworks can happen in the blink of an eye, whether or not a parent or other responsible adult is present.
State and local law classifies fireworks into three categories. Novelty fireworks which includes Sparklers, Snakes, Smoke Bombs and Noisemakers.
Consumer Fireworks, which require an individual to take fireworks training classes approved by the Office of the State Fire Marshall and $30 permit issued by the City of Galesburg.
Display Fireworks requires a license by the Office of the State Fire Marshall as well as be employed by a licensed pyrotechnic distributor.
According to the statement though, Sparklers pose the greatest danger to users, burning at over 12-hundred degrees, they can cause deep tissue burns.