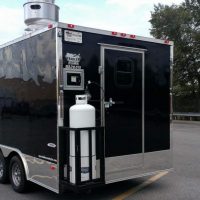 Food trucks from across Illinois and Iowa are coming to Galesburg in the fall.
The Young Professionals of Galesburg are planning for their first annual Food Truck Festival in the parking lot behind the Downtown YMCA on Sept. 23.
Kyle Kelley with the Knox County Area Partnership became Chairman of the Young Professionals in November.
"This has kind of been my brain child since then. I really wanted to undertake a community event that was going to focus and bring everyone together and I don't know too many people who don't love food so, I thought that this was going to be the best way to introduce food trucks but also have a great event to bring everyone together," Kelley says.
At this point he says they are in the early stages of planning but 65 trucks across Illinois and Iowa have been invited.
Kelley believed that all six food trucks that operate in the Galesburg area are committed.
He adds there are also going to be live music, art demonstrations and a kids zone for the younger crowd.