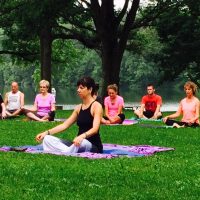 Galesburg residents may not know that community members have been following their breath and seeing out their third-eye at Lake Storey on a weekly basis.
Yoga in the Park is a free weekly program offered in the summer by the Galesburg Parks and Rec department.
Anyone can bring a mat or blanket out to the grassy area just west of the Lake Storey Pavilion while different instructors lead those of all ages, sizes and fitness levels.
Heather Hillhouse went to Iowa City Yoga Festival in 2010 and was inspired by a session by a man that started a similar program in Des Moines. 
Hillhouse knew Parks and Rec Supervisor Elizabeth Varner from lifeguarding years ago.
She went to her with the idea and made it a reality.
Now six years later Hillhouse says anywhere from 50 to 70 people attend on a weekly basis.
"It's just a laid back relaxing environment. There's men, women, old, young, people bring their dogs. There's no experience necessary whatsoever. The first thing I hear from people, 'I'm so unflexible, I can't even touch my toes' and I say then that's why you need yoga," Hillhouse says.
The time is every Saturday from 9 to 10.
Different guest instructors lead every week.
Last week Carl Sandburg College President Lori Sundberg led and this week it will be Galesburg Business Associate President Amye Peterson.