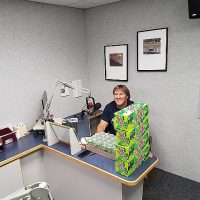 Longtime Galesburg radio broadcaster Jim Lee logged off yesterday for the final time before heading towards retirement.
Lee, the son of a farmer never wanted to go into the family business because it said it sounded like too much work.
He didn't stay too far away from the ag world though as host of WGIL's Midday agricultural report.
"In fact at my dad's funeral funeral earlier this year I said a lot of my Monday morning coffee shop news came from what he heard at the coffee shop over the weekend," Lee says. "It's just those type of things. Radio is really a community event and if we can just harness a lot of those things we hear and hopefully most of those things are accurate."
Lee broadcasted local sports, most notable perhaps basketball and football, with Brad Bennewitz for nearly two decades.
He says a highlight of his career was he and Bennewitz commenting for the 1997-98 boys basketball that included Joey Range and went on to take 2nd place in the state IHSA tournament.
Lee not one to shine the spotlight on himself, says that radio is a community event and is nothing without the community members, experts and frequent guests.
Many of Lee's guests wished him well on social media, many mentioning how easy and comfortable he made interviews for those he talked to.