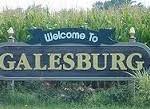 Work has begun on replacing lead service lines in Galesburg with money that came in the form of a forgivable loan from the Illinois Environmental Protection Agency.
But the Knox County Health Department have long held that what's much more likely to infect a child with lead is lead dust in the home.
The City and Illinois have jointly applied in cooperation with the Knox County Health Department for a $2.9 million Healthy Homes Grant.
This is a lead paint hazard reduction program.
If approved the city would be the only target area in the state, leaving the almost $3 million for abating lead paint hazards in Galesburg homes.
City Engineer Wayne Carl says last week he communicated with Rep. Cheri Bustos' office to check on the status of the grant with Department of Housing and Urban Development.
"We're estimating between $15,000 and $20,000 per house so we can do quite a few houses for the $2.9 million if we get that and we they should announce that some in July," Carl says.
Galesburg Housing Coordinator Judy Guenseth says that 92% of Galesburg's homes were built before 1978 when the use of lead paint was outlawed.