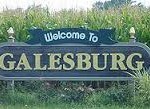 Galesburg has seen more food trucks emerge lately but city code only allows them to do business on private property right now.
An ordinance proposed last night in a work session could change that though. There are currently six food trucks operating around town, but more could be drawn to the area.
Right now trucks like Jerry's Mojo and Boss Food Truck pay a $150 fee to the city clerk and can only park on private property. If it was approved this ordinance would have it so a food truck owner would pay a $250 fee and be able to park on designated public streets.
Ken Springer and Kyle Kelley with the Knox County Partnership for Economic Development says some of the things that food trucks and brick and mortar restaurants have bickered over include permit fees, parking restrictions and trash pick-up
The partnership along with City Attorney Brad Nolden drafted an ordinance that they say would address all three of those concerns.
Kelley says that the ordinance would also give City Manager Todd Thompson authority to designate the zones that food trucks would restricted from.
Nolden says the option of having food trucks anywhere they wanted as long as they were so far from a restaurant was considered but that was thought to be difficult to enforce.
On the subject of trash pick-up, the ordinance would require that trucks provide their own trash receptacle and clean up any trash within a 50 foot radius.
Otherwise food trucks would have to follow other state and local laws that restaurants have to follow.
In researching the issue, Kelley met with several owners of brick and mortar restaurants and food trucks.
One brick and mortar owner was at City Hall on Monday. Iron Spike Brew Pub owner Ryan Cardwell says that "food trucks are good for Galesburg".