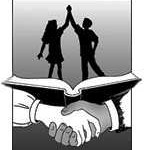 Galesburg's Board of Education held a special meeting last night to conduct public hearings on the budget for the 2017 fiscal year which ends on June 30th, for both District 205 as well as the Knox Warren Special Education Co-op.
No one from the public voiced any comments before on either one, but Superintendent Ralph Grimm in his final meeting with the district, twice spoke on the realities of the state's financial situation.
If there is no budget by Friday then either on Saturday or Monday, Moody's would downgrade Illinois bond rating to 'junk' status and as Grimm put it, "The world as we know it will change dramatically."
Specifically on the proposed property tax freezes. He said it was calculated the district would lose close to $1.2 million if a two year freeze was enacted. It was significantly worse if the state passed a four year freeze, with losses totaling $4.1 million over the four year time period.
Grimm also stressed that there is currently two proposed bills in the General Assembly regarding the school funding formula. Senate Bill 1, which has passed the house and the senate, but has not been released to the Governor, is the "best and only chance of being enacted" according to Grimm.
He said House Bill 1140 has not been looked at, but the Governor has said he would sign it.
Grimm said that both bills, though similar, are very different.
The board did vote on several other issues, mostly related to employee insurance and keeping them more inline with the current federal healthcare law. Additionally a recommendation from Grimm to eliminate the districts Secretary Service Bonus and Longevity Stipend were considered and approved, with qualifying staff members still in their positions set to receive those bonuses still.
Also approved was an intergovernmental agreement for itinerant services with the Knox Warren Special Ed Co-op, which Galesburg exited, for a total $47.60 per hour for services used.
The board also discussed either live-streaming or taping the board meetings for parents or board members who could not attend the scheduled meetings.
The next board meeting is scheduled on July 10th, it will be the first with Dr. John Asplund as Superintendent.