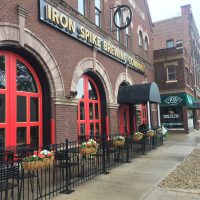 Iron Spike Owner Ryan Cardwell says he's looking all the time for ways to make the brew pub and restaurant a little better.
Recently some of those little improvements have been visible from the street.
The first thing you might notice, particularly at night time is a new sign that Galesburg Sign and Lighting installed.
He knew he wanted a sign with three dimensional block letters and decided to go with colors that matched the window frames.
Cardwell says when the building was Galesburg's community center the frames colors were more earth tones.
"And although it helped the building blend in we repainted the window frames to red, black and gold trim to make it look like an old fire house again and then that's where the gold lettering and red back lighting came," Cardwell says.
There's also an outdoor cafe seating area in the front.
There's previously been a cafe area but now they've traded in picnic tables for a chairs with arms and backs, a small fence with plants and flowers hanging.
Cardwell says he'd like people to feel free to relax in the spot as long as they wish.
Even dogs are welcome at Iron Spike's cafe area.
You can ask an Iron Spike staff member about a bowl to put water in.