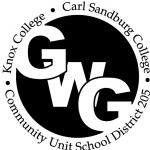 The state budget impasse is affecting the George Washington Gale Scholars program on a number of levels.
For one, the program that sends Galesburg High School graduates tuition free to Knox and Carl Sandburg Colleges is funded in part through the state's general education spending, and in another part, in the form of MAP grants the students get. Both have had their problems on the state level.
But program director for District 205, Steve Cheesman, tells WGIL the state budget situation has cut the number of students that can be accepted.
"We have 30 plus students that were outstanding in terms of being capable to participate in this program," says Cheesman who continued, "and have this opportunity and it's a doggone shame that we can't give them all that opportunity. Dropping it from 15 to 10 makes it even more difficult."
Carl Sandburg College's foundation has stepped up in part, but Cheesman says that can't happen forever, "We hope our budget gets passed and more importunately we want to try and figure out some ways to get some help in other areas. For a program that represents our community and gives opportunity for kids to achieve their dreams. We hope we can get some help from other folks out there – or other groups and organizations."
Cheesman is talking about private donations, of which the program has received some in the past. He says he tries not to bring the impasse up to the students in the program, because he feels they shouldn't have to worry about it.